Loss of attractivity of the European civil service: the example of Nathalie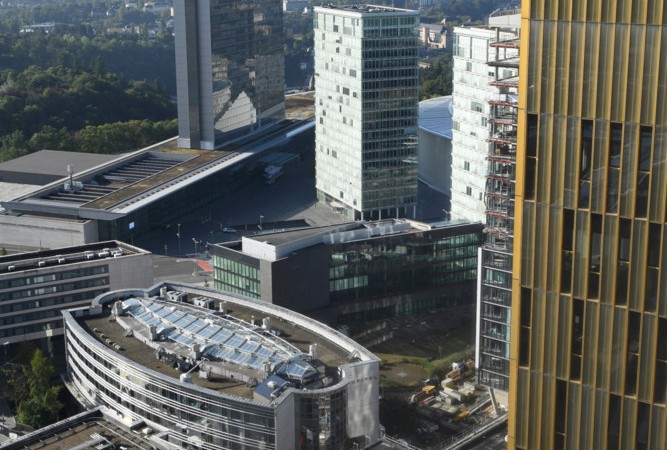 Unlike employees under Luxembourg law, contract agents do not see their salaries evolve in line with the economy. (Photo archives lq/alain rischard)
Union Syndicale Luxembourg has been fighting for years for an upgrading of the European civil service, which is no longer attractive in Luxembourg. She cites the eloquent example of an educator.
Nathalie pales when she compares her salary sheet with that of her colleagues employed under the Luxembourg salary system. However, this graduate educator, who has been working at the European institutions' Centre polyvalent de l'enfance (CPE) since 2007, thought she had found an Eldorado. The Union Syndicale Luxembourg (USL), which represents EU officials and staff, calls it a "mirage".
Supposedly high salaries
It is her example that will serve to illustrate the great disillusionment that the union regrets. "Nathalie has heard a lot about European officials and agents, their supposedly high salaries, their tax privileges… By joining the European institutions' CPE, she can become one of them! In 2007, she left a day care centre in Belgium, where she was originally from, attracted by the European civil service, whose statute had been reformed three years earlier.
The status of contract agent was introduced and the union explains that it has been used since 2004 "to fill posts that would previously have been intended for European officials in categories D, C, B, and even, in some cases, A, when the institutions, and in particular the European Commission (responsible for the administration of the EPC), considered that these were non-permanent posts".
Three years of fixed-term contracts before a permanent contract
Nathalie was offered a job as an educator under the status of contract agent with the European Commission. She is not complaining, her salary is higher than what she was getting in Belgium. "Despite the requirements for the job (in addition to a diploma and the need to speak several languages, she also has to pass an EPSO selection test), she will have to wait three years on a fixed-term contract before she can get a permanent contract," the union said.
That's not all that's disappointing for her. At the time of the reform in 2004, her two colleagues already in post had the choice of becoming "employees under Luxembourg law" (SDL) or signing up as contract agents (AC).
The false Eldorado
Nathalie is aware that the salary scale for contract agents starts below the Luxembourg social minimum wage, but she is not badly off. "She is not unhappy with her situation, because it could be worse."
However, by sharing a copy of her latest payslip, the graduate educator shows the gap "between the reality shown by her pay and the 'El Dorado' that everyone, including herself, thought they would find by joining the European institutions," insists the union, which has been fighting existing wage discrimination for years. It describes the environment of the Commission's 200 or so educators as a "social jungle" in terms of employment conditions. For the same job, USL counts many contractual agents in different "function groups", employees under Luxembourg law (SDL), whether or not they are covered by an SAS agreement, and temporary workers, some of whom have been in permanent positions for more than 15 years, according to the union.
A staggering gap
Nathalie despairs of ever seeing the salaries of contract agents corrected to bring them into line with the Luxembourg economy, as is the case with employees under Luxembourg status. "This would have been easier to accept if the developments had not been so divergent," the union admits.
If Nathalie had been a "Luxembourg employee" with a contract governed by the SAS collective labour agreement and her 15 years' seniority in the civil service, her pay would have been 420 points which, adjusted to the index in force in May 2022, gives a value of 21.20 euros for one point.
Nathalie's gross monthly salary would therefore have been 8,904.09 euros if she had been an employee under Luxembourg law rather than a 'European civil servant'. She is content with her 2,979.73 net, but as a member of the USL she would like to warn that the European civil service is no longer what it used to be.
Read the original article (in French) on the Le Quotidien web site