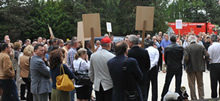 L'Union Syndicale Luxembourg, a trade union focused on action !

Action = Commitments = Means = Services = Defence of the staff
Union Syndicale Luxembourg has a self-financed administrative secretariat equivalent to 1 FTE
Union Syndicale Luxembourg = 1100 members in the institutions in Luxembourg, including 500 in the Commission
Union Syndicale Luxembourg invests around EUR 30,000 per year from its own funds in legal assistance and representation.
Union Syndicale Luxembourg organises training courses/preparations for competitions which benefit several hundred people per year.
Union Syndicale Luxembourg assists colleagues on a daily basis in the defence of their statutory rights: more than 500 consultations per year
Union Syndicale Luxembourg is a recognised and valued interlocutor on the local political scene, providing a link with decision-makers in the host country, the Grand Duchy of Luxembourg
Union Syndicale Luxembourg maintains a Cooperation Agreement with the OGBL to ensure synergies between the actions of both unions
Participation in all joint bodies responsible for the implementation and monitoring of personnel policy
Union Syndicale Luxembourg subscribes to an Action Programme to better defend staff as a whole and undertakes to take it forward.
Accompaniment
Exemples de Témoignages:
1/ Mme Cristina MAIER (DGT)
FORMATION: Comment l'Union Syndicale Luxembourg m'accompagne dans la préparation de mes concours
 « Je dois dire que l'Union Syndicale a été et est encore très présente à mes côtés dans le cadre de ces préparations aux concours … »
Pour lire la suite du témoignage cliquez ici
2/ M. Laurent TOURIN (DG ENER)
AIDE JURIDIQUE: Comment l'Union Syndicale Luxembourg m'accompagne dans la reconnaissance de mon accident de travail
«…je n'étais pas seul, soutenu et aidé par un groupe de personnes, de professionnels juridiques et de santé pour m'accompagner sur ce chemin…»
Pour lire la suite du témoignage cliquez ici
3/ Témoignage d'un anonyme qui souhaite le rester:
ASSISTANCE DIRECTE: Comment l'Union Syndicale Luxembourg m'accompagne dans une procédure d'appel contre mon évaluation
«… Les délégués syndicaux m'ont aidé à rédiger mon premier appel contre l'évaluation, à trouver les bons mots, tout en respectant la procédure…»
Advice & Support
M. CRISTESCU Sorin: 4301 32737
Mme CSORDAS Annamaria: 2929 42795
You can get advice from our legal counsel:
Maître François MOYSE
USL participated, alongside the Alliance, the trade union confederation of which it is a member, in the social dialogue meetings on the future decision called "New Working Time / Telework". The College of Commissioners is expected to adopt it soon.
USL represents the Alliance in the regular "health and hygiene at work" meetings which, in this period of pandemic, make it possible to monitor the health situation and adapt the rules of presence in the offices to the pandemic situation
Over the years, Union Syndicale Luxembourg has become a respected and sought-after interlocutor for the administrations of the Institutions as well as for the political decision-makers of the Grand Duchy of Luxembourg.
Since 2015, Prime Minister Xavier Bettel meets once a year with a USL delegation composed of representatives of each European Institution present in Luxembourg. Between two meetings, USL keeps in touch with the Secretary General for European Affairs of the Ministry of Foreign and European Affairs.
In addition, USL regularly organises political meetings with the parliamentary fractions represented in the Grand Duchy's Chamber of Deputies. The exchanges we have are often at the origin of "parliamentary questions" which allow the Minister of Foreign and European Affairs to clarify his position and strategy in terms of "seat policy", the nickname by which the Government's policy towards the European Institutions, Bodies and Organisations of which Luxembourg is a seat is known.