CinEast Film Festival 2021
The autumn brings not just a return to the office, but a return of the cinema festivals, many of them supported if not created upon the initiative of some of our colleagues in the European institutions.
The "Miradas/Blécker" short film competition, organised by the Antonio Machado cultural circle in Luxembourg, closed with a viewing of the finalists on 17 September: https://www.vdl.lu/fr/visiter/art-et-culture/cinema/cinematheque/prix-miradasblecker
The 12th edition of the British and Irish Film Festival (16-25 September) www.bifilmseason.lu. The Chronicle witnessed the opening night: https://chronicle.lu/category/film-festivals/37738-12th-british-irish-film-festival-luxembourg-opens-to-full-house
The Central and Eastern European Film Festival (CinEast), 7-24 October, is already at its 14th edition, and its second hybrid version: https://www.cineast.lu/2021/. More about its rich programme and this year's theme "Dreams of Escape" below.
Just across the border, but with the collaboration of several cinemas in Luxembourg, the Villerupt Festival (29 October-14 November) is the veteran, reaching its 44th edition: https://festival-villerupt.com/.
Enjoy!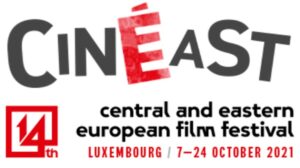 CinEast (ciné-East) − Central and Eastern European Film Festival in Luxembourg
the brainchild of two EU translators and their friends
held annually in October since 2008, 11,200 festival-goers in 2019 and 6,450 participants at the (Covid-19 hit) hybrid edition 2020
usually over 50-65 features and around 30 short films by directors from 21 CEE countries* over 18 days
around 100 screenings in a dozen of cinemas in the city of Luxembourg and other towns
selection of outstanding fiction, documentary and animated films
official competition with awards granted by the International Jury, the Press Jury and the audience
numerous guests (directors, actors, producers, etc.)
children's programmes, school screenings, mini-retrospectives, classics, etc.
events: concerts, parties, exhibitions, debates, themed evenings, culinary events & more
* Albania, Belarus, Bosnia and Herzegovina, Bulgaria, Croatia, Czech Republic, Estonia, Georgia, Hungary, Kosovo, Latvia, Lithuania, Moldova, Montenegro, North Macedonia, Poland, Romania, Serbia, Slovakia, Slovenia, Ukraine
Hybrid edition – plunge into movies in cinemas as well as online (with an IP address in Luxembourg)
The 14th edition of CinEast will present over 100 screenings of 55 features and 35 short films as well as numerous accompanying events, including concerts, exhibitions and cinédebates, and over 20 guests. This is the second hybrid edition of the festival.
CinEast 2021 will have "Dreams of Escape" as its main theme.
The thematic cycle "Dreams of Escape" will provide a reflection on various forms of our hopes for a change, distraction or getaway, not only physically after months of lockdown, but more generally the wish to escape from the rigid and static social and economic framework by proposing alternatives for the individual and collective future.
The theme will be reflected in numerous films (documentaries and fiction), an extensive photo exhibition and a debate.
Other highlights:
Opening event with Vasko & The Uncles from The Dark (Melusina, 8 October)
Cinédocs – reality caught on film
"Dreams of Escape" photo exhibition at Neimënster
Reflecting social media and the online world
Love evening
Jazz cinéconcert: Kuba Więcek Trio (Neimënster, 17 October)
Luxembourg co-productions
Celebrating 100 years since the birth of Stanislaw Lem
Focus on Slovenia
Programmes for children and teenagers