Trade union cites difficulties attracting staff because of Luxembourg's high rents
03.12.2020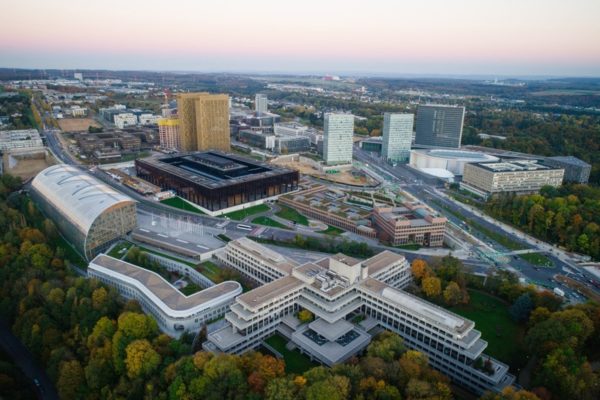 EPPO is located together with several other EU institutions in the Kirchberg area
Photo: Pierre Matgé
Europe's newly established body to fight financial crime warned that the deadlock in approving the European Union's next budget was threatening its ability to investigate crimes in the way EU funds are spent.
The European Public Prosecutor's Office (EPPO) will have to work with just its actual 65 staff – less than a third of what it needs – if the 27-nation bloc does not find away around Poland and Hungary's veto of the so-called Multi-Annual Financial Framework for 2021/2027.
The delay "could potentially have a serious impact on the EPPO budget for 2021, as it will on other EU bodies," an EPPO spokesperson said. "If the whole EU budget is not [adopted], we will need to look for alternative resources to get EPPO operational."
Poland and Hungary last week renewed their threat to block the EU's €1.8 trillion budget, as they object having to explicitly adhere to basic democratic principles, a condition to get a share of the funds.
The European Commission and the European Council are at loggerheads over EPPO, which started its work in Luxembourg this year. The Council of national leaders wants to reduce the Commission's headcount of nearly 35,000 employees before approving to fully staff EPPO.
The Commission's draft €37.7 million budget for EPPO for 2021 provides for 122 employees only, including a college of 22 national prosecutors, which makes up its governance body. But to fulfil its mission of prosecuting fraud, EPPO has said it needs a workforce of 219 next year.
That would require a budget increase of €18 million to €55 million, EPPO said. At the moment, EPPO employs just 65 people.
EPPO cannot formally start its work before each country has appointed a minimum of two delegated prosecutors, who will work in their home countries and not in Luxembourg. Of the 22 EU countries participating in EPPO, 18 have not yet submitted their candidates.
Living cost
Luxembourg's high costs of living are a hurdle when attracting staff, according to Miguel Vicente-Nunez, president of the Union Syndicale Luxembourg – a trade union for EU institution staff in Luxembourg.
Expensive rents and elevated property prices in Luxembourg , and the fact that staff usually get paid the same salary regardless of whether they work in Luxembourg or Brussels are the main issue, he said.
Staff at EU institutions usually get paid the same salary, regardless of whether they are based in Luxembourg or Brussels, even if living costs in Luxembourg are higher, because of high rents and property prices.
Of a list of some 55 candidates, only a dozen had accepted a job offer since autumn of this year, and about 12 people had declined, while others were undecided as they waited for a better offer, he said.
Several applicants from EU institutions and the Hague-based Eurojust, an EU agency dealing with judicial co-operation in criminal matters, had declined a job offer for this reason, Vicente-Nunez said.
EPPO conceded that the lack of a so-called "correction coefficient" to adjust for the cost of living in Luxembourg might play a role.
"We have no issues finding enough candidates for our vacancies," the EPPO spokesperson said. But he added, "depending on the countries or other EU institutions the candidates come from, the EU coefficient of 100% [the same rate as in Brussels] could play a factor in their final decision whether or not to join EPPO."
Despite its diminutive size, Luxembourg employs 14,000 EU staff. The European Court of Justice, the European Investment Bank and the European Court of Auditors all have their headquarters in the country, and the European Council also regularly meets in the Grand Duchy.
But recently, cracks have begun to appear in its status as one of Europe's administrative capitals, together with Brussels and Strasbourg.
While Luxembourg attracted the European Public Prosecutor's Office (EPPO), its headcount was slashed before it even opened. And a blockchain competence centre at the Luxembourg offices of the EU's informatics department was dissolved, said Laurent Mosar of the Christian Democrats (CSV). "We have to be watchful," he said.
In May, the European Commission in May said it would close the Consumers, Health, Agriculture and Food Executive Agency (CHAFEA) and reorganise the unit into the new European Innovation Agency in Brussels, a decision Luxembourg is fiercely resisting.
Source: Luxembourg Times