IMF warns Luxembourg
by John MONAGHAN  – 14.03.2022
Constant growth poses threat to country's financial stability and could cause employees to go elsewhere, IMF says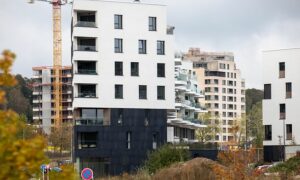 A housing development in Kirchberg, Luxembourg's financial district
Photo credit: Gerry Huberty
Urgent measures are needed to tackle the explosion in Luxembourg house prices, which is posing a threat to the country's financial stability and making it less appealing to workers, the International Monetary Fund has warned the government in its latest assessment.
Few countries have seen property prices jump as sharply as the Grand Duchy in recent years. Real estate in Luxembourg almost doubled in value in the decade from 2010, the third highest increase in the EU in that period.
Further government intervention is "urgently needed", the IMF said, in the preliminary findings of its annual inspection of the country's financial health, published on its website on Friday. The "rapid pace" of housing price growth is "posing medium-term financial stability risks", the IMF statement said.
The average price of a house in or around Luxembourg City stands at €1.35 million, according to the country's official statistics agency Statec, with the national average for a house around €900,000.
High debt levels
The IMF also expressed concerns about the levels of household debt, echoing comments made by Luxembourg's Central Bank Governor Gaston Reinesch in January, and said authorities should consider "further tightening" the amount given out to borrowers.
In June 2021, Luxembourg had one of Europe's highest levels of household debt, estimated at 174% of disposable income, Reinesch wrote earlier this year.
Recent government steps to address the housing shortage, such as plans to tax owners of empty dwellings and order land owners to build on their plot, may face obstacles and will take time to produce results, the IMF said.
If Luxembourg does not take measures to address the housing crisis and curb price rises, the IMF said, the country could also become less appealing to new and existing employees. Luxembourg has already been struggling for years to attract staff to work in the EU institutions because workers are better off if they do the same job in Brussels, where they receive the same salary, but where the cost of living is lower.
Government assistance should be targeted across several areas, the IMF advised, such as greater tax breaks for homebuyers, tackling bottlenecks in the construction sector – including availability of landfills – and encouraging prospective buyers to move away from the capital by promoting teleworking and decentralising services.
A shortage of land which can be built on is a huge contributor to Luxembourg's expensive housing market. Between 2001 and 2018 the population increased by almost 175,000 but only around 53,000 housing units were built.
Close to 50 land owners collectively own a quarter of Luxembourg's housing plots – the equivalent of nearly 190 international rugby fields, the Housing Ministry said last month.
(…)
The IMF visit, which began at the end of February, was the first in-person inspection since the pandemic. The full report is expected to be published later this year.
Read the whole article on Luxembourg Times.